Safety Solutions
| Provides an efficient integrated information management system for safety.
Minimize risk with safety services optimized for control systems and industries.
We provide safety management services according to industrial safety standards for intelligent video analysis system and manufacturing industry for efficient integrated control.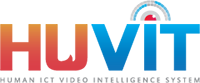 Through CCTV video analysis
Hazardous situation detection and propagation system

We build a system optimized for our customers' environment and needs with the best technology.
If you have any questions about our technology and solutions, please contact us.